Paper Roll Hardness Tester – PaperSchmidt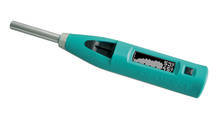 The PaperSchmidt is the first rebound hammer designed specifically for the testing of the roll profile. Extensive field tests carried out at major manufacturers and converters in the US and Europe have consistently shown that it provides previously unachievable accuracy and repeatability of the roll profile.
The instrument is fully compliant with the TAPPI T834 om-07 standard used in North America to regulate the test of the paper roll profile and it delivers instantly all of the key parameters required for assessing the quality the of paper roll. In addition to this the PaperSchmidt has an extended lifetime to cope with the heavy demands of the paper industry and dedicated tools, such as pre-defined tolerances that make assessing a roll profile a simple matter.
The PaperSchmidt meets the customers' needs for a quick and reliable test of the roll profile.
Roll Hardness Tester – Parotester 2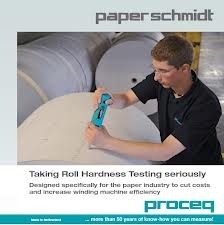 The Parotester 2 roll hardness tester provides accurate and reliable evaluations of the roll hardness, hardness profile and hardness variation of paper, foil and film rolls. With Proceq's roll hardness tester, unevenly wound reels can be spotted prior to interruption of operations and cause of quality problems in printing and converting operations.
By taking Leeb readings across the roll, uneven, too soft or too hard winding can be detected and the roll can be rejected. This minimizes the risk of complications e.g. during the printing process on paper.
Automatic loading and unloading of the impact body by pressing the impact device to the roll as implemented in the Parotester 2 roll hardness tester results in fast and repeatable tests of greater resolution than the commonly used Original Schmidt type L hammer tester.