Warmex Bio Mass Water Heaters
We offer Warmex - Bio Mass Water Heaters (Gujarat Boilers), which are manufactured using high quality MS sheets. When it comes to your daily need of Hot water, remember Warmex; will be the most ideal one, as it consumes very less 'Bio-mass waste' and instantly provides Hot water within few minutes! Could be easily installed in individual houses, Hostels, Resorts, Hospitals, Paying Guest Accommodations, Choultries etc. For those who think on saving money on daily hot water needs, Warmex boilers could be the best solution.
Bio Mass Water Heaters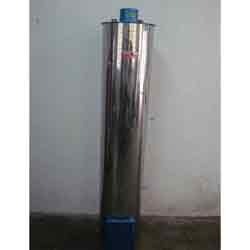 Do away with heavy electrical bills, voltage fluctuation & power cuts. Warmex stainless steel covered & Mild Steel covered water heaters. First time in Karnataka manufactured using best quality, heavy gauge material with two years warranty.
Warmex - Bio Mass Based Geyser:
Available at different sizes at competitive price.
More hot water with less fuel for modern life.
For your requirement of hot water in: Homes, Hostels, Hotels, Nursing Homes, Resorts, Hill Stations, Factories and Paying Guest Accommodations, etc.
Salient Features:
Saves place/time & money.
Works on fire wood, charcoal, coconut shell, husk and Farm yard waste even.
A direct hot water pipeline can be drawn to your bathroom, shower etc.
Insulated storage tank saves heat for you. Minimum warm up time of 12-15 mins only.
Fuel cost less than 1/5th of electricity.
Insulated storage tanks, totally safe -no electrical shocks.
Long life - low investment - maintenance free.
Totally safe - no electrical shocks.
Pays for itself in less than four years.
Available in 50 ltrs, 75 ltrs, 100 ltrs, 150 ltrs, 200 ltrs, 300 ltrs, 500 ltrs, & 750 ltrs capacity.
Dealership inquiries are solicited from all over India and neighbouring countries.
Other Information
Pay Mode Terms: L/C (Letter of Credit), Western Union.
Port of Dispatch: Bangalore.
Production Capacity: As required.
Delivery Time: 30 days.
Packaging Details: Wooden heavy Packing.